Sumptuous Accommodations.
Breathtaking Views.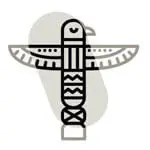 Step into your luxurious guest room at Twin Islands Retreat and experience the peace, quiet, and joy of a well-appointed space prepared solely for your pleasure.
Each of our four private rooms accommodates up to two guests, and all provide majestic views, en suite bathrooms, and the cosmopolitan amenities one expects in a five-star boutique resort.
Choose from four unique, all-inclusive guestrooms.
Each guestroom accommodates two people and is priced at $1,500 per night.
A two-night minimum stay is required for all rooms. City taxes are not included. Please see terms and conditions for more information.
Private bungalow with one queen bed, an en suite bath, and glorious southwest views of Sitka Sound.

Private bungalow with one queen bed, an en suite bath, and peaceful southeast views of Sitka Sound

Two twin beds with an en suite bath and eastern views of Sitka's shores and the National Historical Park. The Totem Room is located in the main house.

Two twin beds with en suite bath and western views overlooking the main deck. The Eagle Room is located in the main house.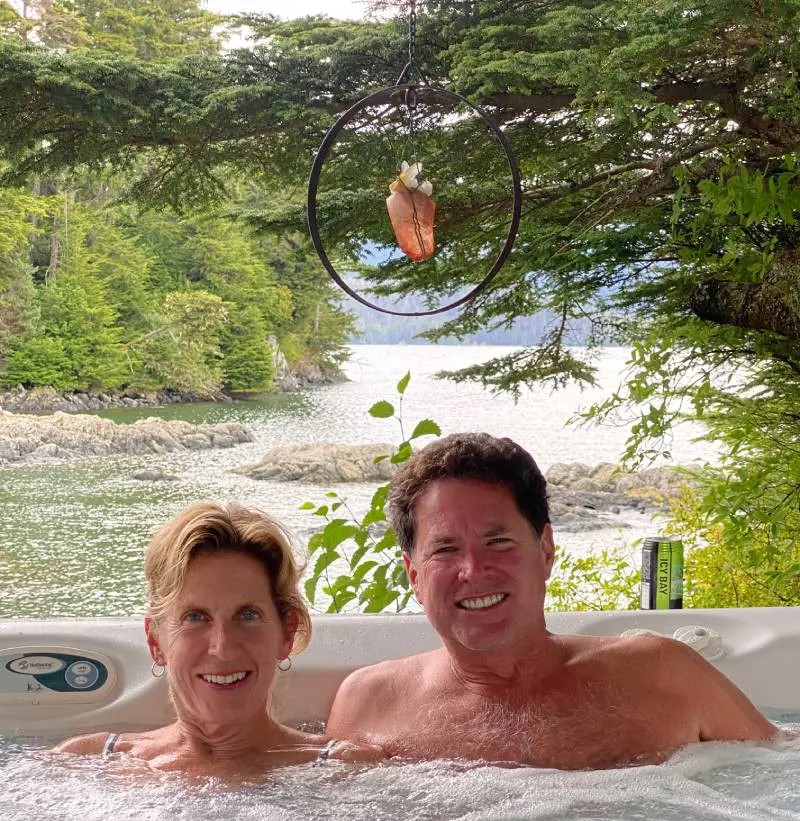 Effortlessly Romantic. Perfectly Planned.
Whether you are celebrating an anniversary, planning an unforgettable proposal, or simply showering your sweetheart with love and attention, our Romance Package promises to leave you both with memories you'll cherish for a lifetime.
Your evening begins with a boat ride across the Sitka Sound to the luxuriously private Twin Islands. Upon debarking, you and your significant other will sit down to an intimate dinner-for-two, where you will savor a gourmet meal and sinfully decadent desserts. Afterward, you can enjoy a moonlit stroll on the observation deck, a relaxing soak in the hot tub, or feel the heat in our dry sauna.
When you are ready to retire to your exquisitely appointed room, you will find a delectable selection of local handmade chocolates and a bottle of bubbly chilled and ready for toasting. In the morning, you can sleep in or enjoy kayaking or paddle boarding while your gourmet breakfast is being prepared. After breakfast, your host will return you to Crescent Harbor.
The Twin Islands Retreat Romance Package may be added to a single night or multi-night stay and is $200 (per instance) in addition to the nightly rate of $1,500.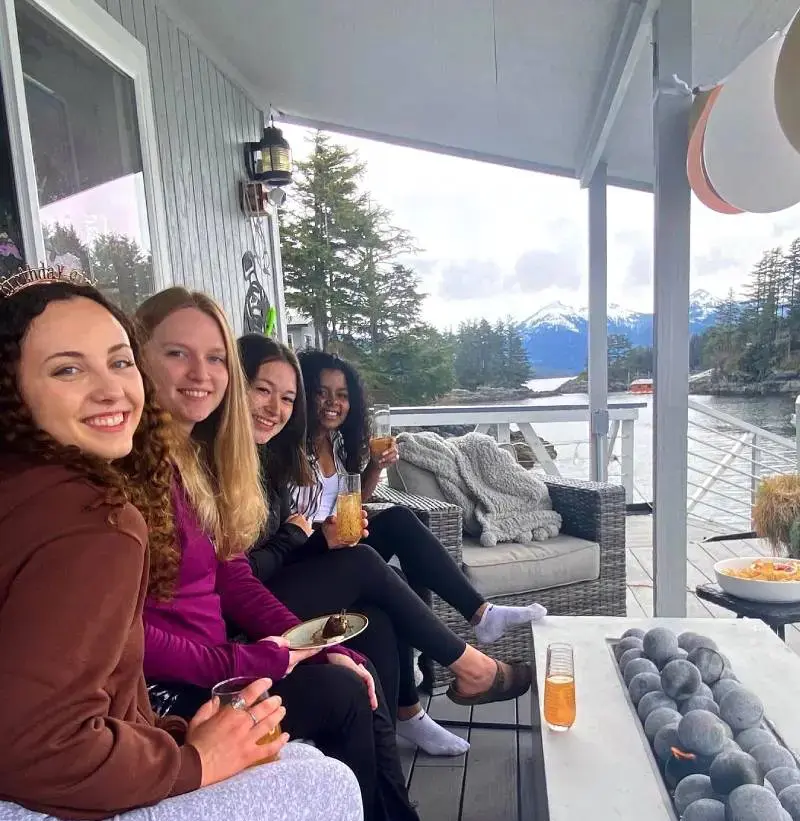 Fabulously Fun.
Delightfully Decadent.
When you and your friends need the ultimate day escape.
Calling all mothers, daughters, sisters, and gal pals: it's time you treat yourselves to a much-needed escape to Twin Islands Retreat. Our Girls Getaway package enables you to enjoy the good company of your favorite people at our rejuvenating island oasis.
Prepare to be pampered as soon as you assemble your crew at Crescent Harbor, where you will be picked up promptly and ferried away to the island. Upon arrival, you will find a delicious light meal awaits. Afterward, throw on a supplied bathrobe and enjoy soaking in the hot tub overlooking the ocean, relaxing in the cedar sauna, or taking a cold plunge—if you dare. You can also enjoy each other's company around one of the outdoor fire-pits or relax in the Alaska room beside a cozy fire.
Girls Daytime Getaway: 4 Hours; 11:00 am–3:00 pm
Cheese and Fruit Plate
Crab Cakes and Salad Luncheon*
Supplied Bathrobes and Slippers
Hot Tub and Dry Sauna
Fitness Room and Yoga Equipment
$250 per person
Minimum four people, maximum ten people. Must be booked in
advance.*
*Meals subject to change. Alcohol not included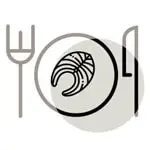 The gourmet home cooking at Twin Islands Retreat is a winning combination of the finest and freshest local ingredients and the expert creativity of our resident hostess and cook, Merri. Prepare to take your taste buds on a delightful tour of Alaska's freshest seafood, finest meats and seasonal vegetables.
Prior to your arrival, we will discuss your menu preferences with you, including your likes and dislikes, as well as any dietary restrictions. At Twin Islands Retreat, we happily accommodate your culinary wishes and strive to make each bite a delight. Please note that alcohol is the one item not included with meals, but you are free to bring your own alcohol.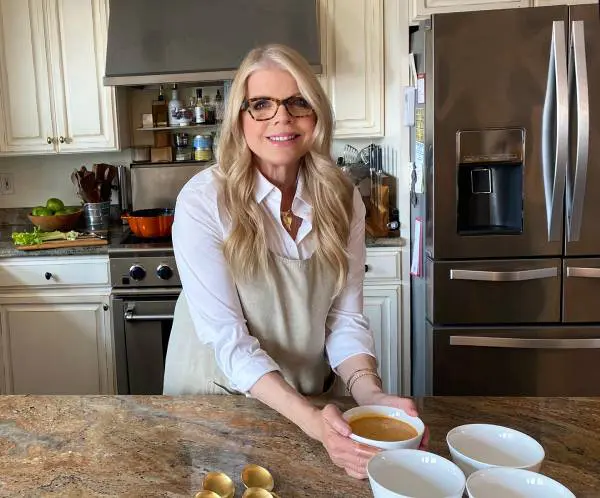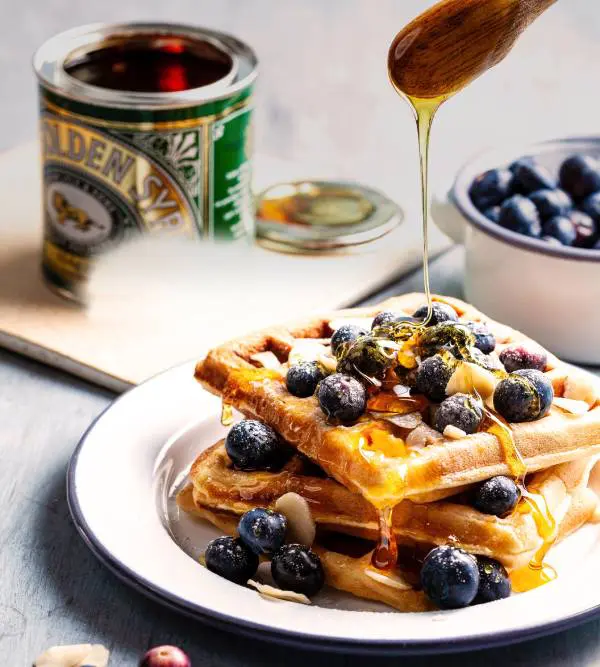 Each morning, the intoxicating aroma of fresh coffee and filling breakfast, such as blueberry waffles, avocado toast with smoked salmon and poached eggs, invites you to begin your day with a smile on your face. Chef Merri is renowned for her fresh-baked scones in seasonal flavors and her cookies are not to be missed.
Mid-day menus frequently include a hearty sandwich and delicious seafood chowder featuring Sitka Sound's best seafood. These invigorating meals are best enjoyed on one of our decks while taking in the sweeping views of Sitka Sound. Lunches can also be prepared "to-go" if you are fishing or hiking that day.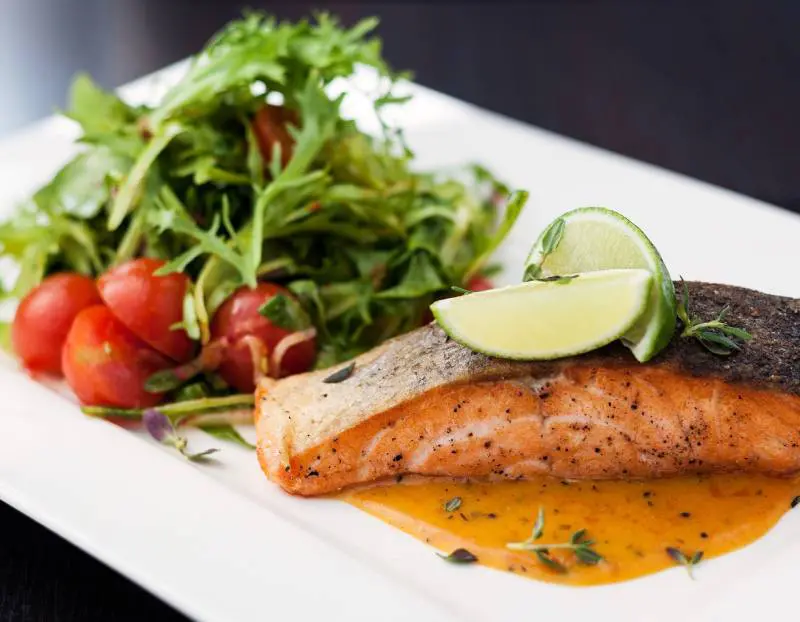 Our evening menus typically showcase fresh-caught fare straight from local waters and include seasonal delicacies such as wild salmon, spotted prawns, hand-made sushi, Dungeness crabs, and Alaskan king crabs. While our seafood is world-class, we are also well-known for our excellent beef, poultry, and vegetarian dishes.
Deliciously Delightful. Made-for-You Menus.